We are happy to announce our new premium bootstrap theme - Pizza House. This template package is unique and special for several reasons.
First of all, the theme is based on Bootstrap Framework, which is based on HTML, CSS and JS Frameworks and unites them to come up with simple website structure that is easy to customize and simple to edit. It would only require you to use any HTML editor, in order to make changes to this template. If you are new to web development, do not be scared as this template comes with excellent documentation and if you have any questions, you can contact us anytime and we will do our best and provide you with the answers you need.
Second reason is that the theme is responsive! Again, if you are new to web development, you might not fully understand what this term means. Responsive websites are the ones that fit their design according to device, screen size and its orientation. This means that it does not matter from which device you are going to view this website from, it is always going to look as beautiful and as special as it is now!
Third reason is the pages this premium template includes. Even though it is called Pizza house, it actually includes two types of templates. First is Pizza House and second is Beer Pub. Therefore, this premium theme would be useful for people who own pizza restaurant, italian restaurant or any restaurant as well for people who own beer pub or work in the company. These two themes, both, have extraordinary design. They are very beautiful and exquisite. There are two version available for both of them, with parallax and without it. You can view all of the versions by going to Home dropdown menu and selecting the one you wish to see.
As you see the website has Home, About us, Our Pizza, Order Online, Gallery and Contact Us pages. The most important one from here is order online, which is a dropdown menu which includes three pages. Our Store, which shows all of the items for sale in your restaurant. Then Our Menu, that shows nicely laid out menu, that includes everything that you offer to your customer on sight and just in case you will use the online store as well, we included a page called order details, which shows special details for one item.
Please view all of the pages and you will see why this premium bootstrap theme is so special compared to other templates that we or any other company offers! We would like to mention again that it is very simple to edit, however, if you ever need any type of help with it, please make sure to contact us and we will try to make your experience the best!
We have created 2 versions of this template:
PIZZA HOUSE: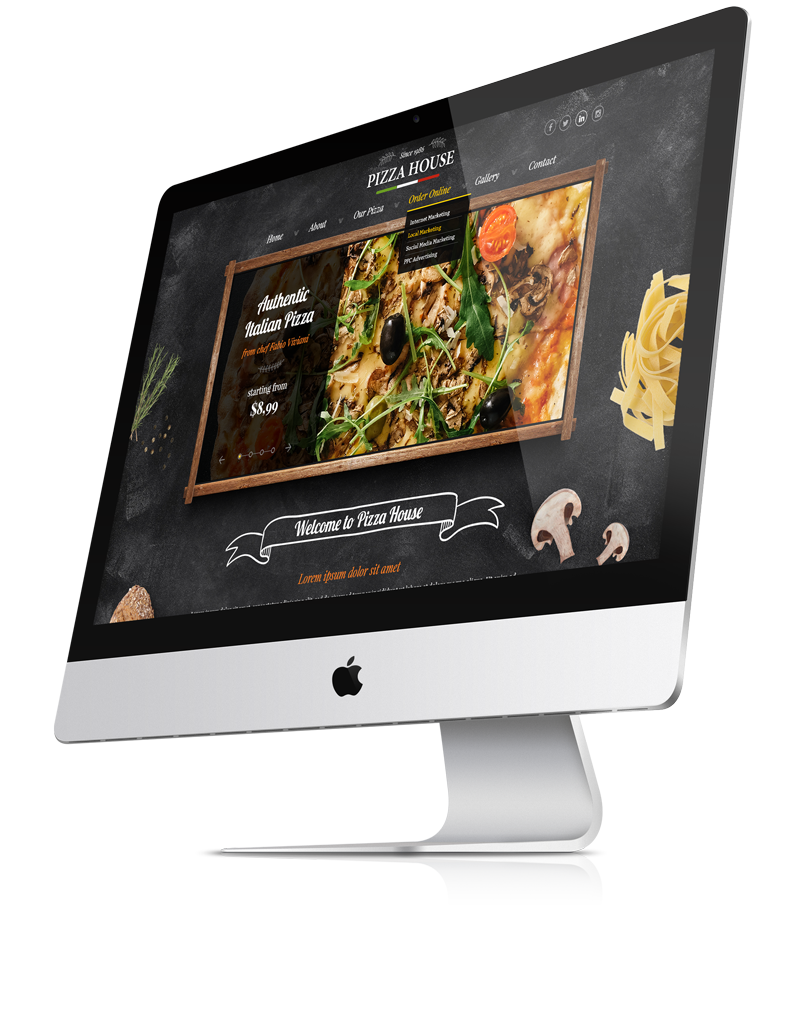 BEER HOUSE: