Travel Agency WordPress Theme (template)
A travel agency is a crucial aspect of the tourism industry, and it is essential to have an online presence that effectively showcases the services offered. The Travel Agency WordPress Template is a comprehensive and professional solution for travel agencies looking to expand their online presence. This template is designed to provide travel agencies with a platform to showcase their services and products, including flight ticket booking, rent a car, hotel booking, and cruises.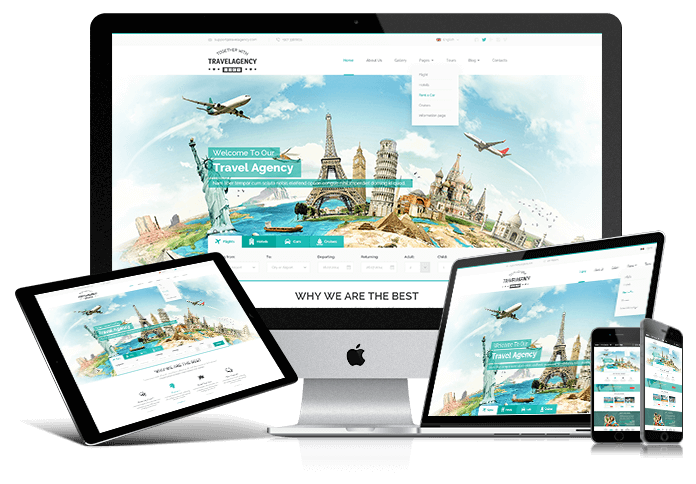 WordPress is a popular content management system (CMS) that powers millions of websites around the world. It is user-friendly, highly customizable, and comes with a range of features that make it an ideal choice for travel agencies. The WordPress admin page is the central hub for managing a WordPress website, and it provides access to all the important functions, such as creating new pages, uploading media, and managing plugins.
The Travel Agency WordPress Template is designed to be responsive, meaning that it will look great on any device, whether it's a desktop computer, tablet, or smartphone. This is essential for travel agencies, as more and more people are booking their travel plans online using their mobile devices. The template is also highly customizable, allowing travel agencies to easily add their own branding, images, and text to create a unique and professional online presence.
The template includes several pages that are specifically designed for travel agencies, such as the flight ticket booking page, rent a car page, hotel booking page, and cruises page. These pages are easy to navigate and provide users with all the information they need to make informed travel decisions. The template also includes a range of functionalities, such as a search bar, filter options, and a booking form that makes it easy for users to find what they're looking for and make a reservation.
In addition to its responsive design and customization options, the Travel Agency WordPress Template also includes several plugins that are essential for any travel agency website. These plugins include the Flight Ticket Booking plugin, Rent a Car plugin, Hotel Booking plugin, and the Cruises plugin. These plugins provide travel agencies with a range of features and functionalities that are specific to the travel industry, such as the ability to manage flight schedules, car rental rates, and hotel availability.
Whether you are a small travel agency looking to establish an online presence or a large agency looking to expand your online offerings, the Travel Agency WordPress Template is an excellent solution. All templates package that are available on our website includes a 6-month free host account at our partner host company, www.m9host.com. If you have not experienced in WordPress, try downloading our free WordPress templates and try to do some customizations. If you are familiar with WordPress, we have a huge collection of WordPress themes, so choose the one that best fits your needs.