Cake Shop Bootstrap Template
Are you in the process of creating a website for your cake shop or bakery business? Look no further, as we have the perfect solution for you - the Cake Shop HTML Bootstrap Template. This template is specifically designed for bakeries, cake shops, Italian bakeries, home bakeries, and vegan bakeries, making it a versatile option for any type of business in this industry.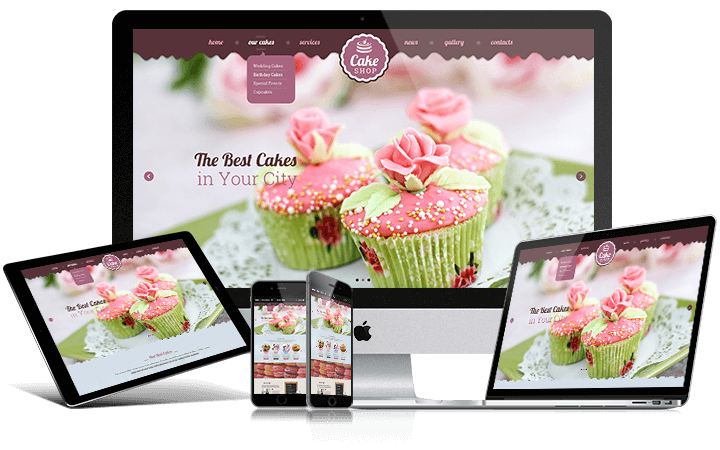 This template is built using the popular front-end framework, Bootstrap. Bootstrap is a well-known framework that is widely used for creating responsive and mobile-friendly websites. It provides a solid foundation for your website, ensuring that it will look great on any device, whether it's a desktop computer or a mobile phone. Additionally, the template also makes use of HTML and CSS, which are the backbone technologies of the web and crucial for customizing the look and feel of your website.
Customizing this Cake Shop HTML Bootstrap template requires the use of an HTML editor. You can use a variety of HTML editors such as Adobe Dreamweaver, Sublime Text, or even the basic Notepad. An HTML editor will allow you to make changes to the template's HTML and CSS code and help you to create a unique and personalized website that reflects your cake shop brand.
In case you are not familiar with Bootstrap or HTML, do not worry! Our free bootstrap templates are a great starting point for learning and experimenting with customizations. If you already have experience with these technologies, then you'll love our huge collection of Bootstrap website templates, as they provide a solid foundation for your next project.
Once you purchase this template, you'll receive a template package that includes a 6-month free website host account at www.m9host.com. This will give you a secure and reliable place to host your website and ensure that it is up and running smoothly for your customers to access.
In conclusion, the Cake Shop HTML Bootstrap Template is the perfect solution for your bakery or cake shop business. It provides a responsive, mobile-friendly, and customizable foundation for your website, along with the added bonus of a free website host account. So why wait? Get started on your new website today!
NOTE: The template package includes all original images used in the demo